The Dave Sinclair Sr. Story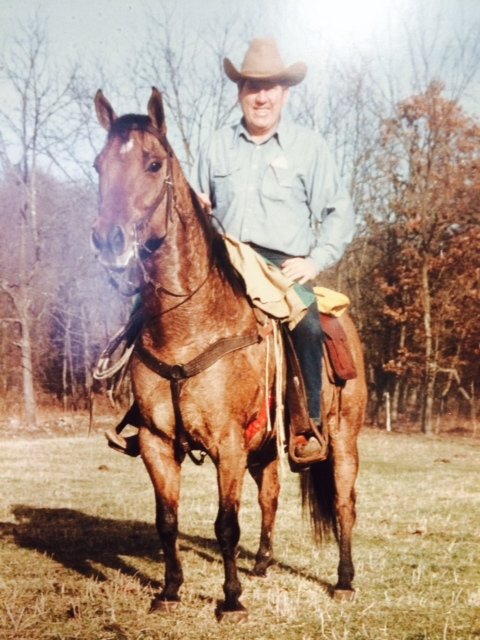 This is truly an "Only in America" story.
Dave Sinclair was born in the "Walnut Park" neighborhood in north St Louis city, went to Nativity Grade School and then Beaumont High School, and joined the Army in WW2. After the war, he became a hod carrier and joined Laborer's Local 42. He worked with them until 1950, when he was accepted into the St Louis Police Department , becoming the third generation of the family to become a city police officer. He was a very happy policeman, loved the job and would have stayed forever, except for one incident in the late 50's. His oldest son, Dan, was injured and had to go to the doctor. Dave didn't have enough cash to pay the full doctor bill, and his youngest brother, Walt, gave him the balance of the money. The fact that he wasn't making enough money to pay his own child's doctor's bills aggravated him so much that he decided to try his youngest brother's job, selling cars. At that time, policeman only got 3 days off (per month), so he worked 6 months without a day off, saved up 18 days, and took a job selling at Vincel Pontiac. It was a tough transition, but by the end of the 3 weeks, he earned more than he made in 3 months as a policeman (roughly $370/month). So he went back for roll call, turned in his papers and resigned.
His father John, a lieutenant, was among many who told him he was crazy to quit the department, and that "He'd starve" as a car salesmen. Thank god he didn't listen!
He started selling cars in 1958 and had 3 small sons at the time.
He went from rookie salesman to top salesman at Vincel Pontiac, then top salesman at Costello-Kunze Ford, to New Car Manager, General Sales Manager, and finally, VP & General Manager at Costello-Kunze. All along the way, he sold people he grew up with, as well as people he became friends with in the Army, as a laborer, and as a policeman. Midway through 1965, he was ready for his own dealership, and Ford Motor Company was eager to help him. More importantly, his dealer, Tom Costello, was also willing and able to help him.
Ford had a dealership on South Kingshighway in mind for him and held a meeting with Dave and Tom Costello. Ford told him that he would need approximately $33,000 down to get the dealership, and Ford would finance the balance through a program called Dealer Development. Dave told them that he had 7 kids now, so it might as well be a million dollars, because the most he could come up with was $3000, not $33,000.
That's when Tom Costello spoke up and told Dave that wasn't exactly true. Then he pulled a sheet of paper out of his pocket, and said that he'd been taking money out of Dave's check since he first made him a manager, and had been investing it. He'd called the broker before they left the dealership for the meeting and the exact number that it had grown to was just under $30,000! Because of Ford's belief in him, and Tom Costello being such a good friend, Dave became a Dealer!
Dave Sinclair Ford opened in January 1966 on South Kingshighway Blvd, and moved to South Lindbergh in March 1972. Since the first year in 1966, it has been the largest Ford dealership in St. Louis, and shortly thereafter, became the largest dealership of any kind in St Louis area.
The motto of the dealership has always been, "If it's not right, we'll make it right!" and we have carried that with us to every dealership location that we have acquired. Dave Sr. set the example of having his office right on the showroom floor, with nobody screening his calls, and we have taken that with us to every dealership, also. All Sinclair family members running a dealership sit on the showroom floor. We believe that this is a big reason that we have always had an A+ rating with the BBB. If a customer has a problem, we are VERY easy to get in touch with, and we solve the problems quickly. An unsolved problem is like cancer, if ignored, it will grow and kill you.
In April 1993, Dave Sinclair Buick GMC opened, with Dave Sinclair Jr as the "Motors Holding" dealer/manager. "Motors" is the GM version of the Dealer Development program that Dave Sr used to become a Ford dealer. At the time of purchase, it was the #5 Buick dealership in St Louis, and about the same for GMC. By the end of 1993, it was the largest Buick dealership in the state, and in the top 40 in the country, and has remained in that position (or better) ever since.
In September 2013, Dave Sinclair Jr purchased the Chrysler Dodge Jeep RAM franchises in Pacific, Mo. "If it's not right, we'll make it right!" now resides in Franklin County too! Same way of doing business as all Sinclair dealerships, lots of inventory, and Dave Sinclair Jr is easy to find and talk to, and still no screening of calls allowed!
Dave Sr passed away in September 2009, after a short battle with cancer. The way we do business has not changed since he passed and it never will. It's the ONLY way we know how to do it, and it's the ONLY way we have conducted business in the 35 years that the second generation (and now the 3rd) will continue to do it.
Dave Sinclair Chrysler Dodge Jeep Ram always maintains competitive new and pre-owned inventories of Chrysler, Dodge, Ram trucks, and Jeep Cherokee, Jeep Grand Cherokee, Wrangler, Wrangler Unlimited, Compass or any Chrysler, Dodge or Ram vehicle. Staffed with experience sales representatives and top trained technicians, we're here to provide a fun, easy and valuable automotive shopping and service experience. Stop by our dealership today at 2326 West Osage to see why Sinclair Jeep is growing daily. We're over stocked with Jeep Grand Cherokee, Jeep Cherokee, Jeep Patriot, Jeep Compass, Jeep Wrangler and Jeep Unlimited Wranglers near and in St.Louis, Mo.-site-verification: google87be1aeea3d6eba5.htm
Serving Pacific, Union, Washington, Sullivan, Ellisville, Ballwin, Glendale, Saint Louis, Fenton, Arnold, High Ridge, Ballwin, Imperial, Chesterfield, Saint Charles, House Springs, O Fallon, Cedar Hill, Florissant, Festus, Hillsboro, Saint Peters, Wentzville, De Soto, Barnhart, Lake Saint Louis, Belleville, Wildwood, Dittmer, Granite City, Valley Park, Pevely, Saint Clair, Troy, Maryland Heights, Farmington, Ferguson, Potosi, Hazelwood, Columbia, Collinsville, Waterloo, Crystal City, Bonne Terre, Park Hills,   St Louis, Herculaneum,  Sainte Genevieve, Saint Ann, Edwardsville, Grover, Wright City, Villa Ridge, Alton, Robertsville, Moscow Mills, Manchester, Perryville, Bridgeton, Rolla,  and Missouri and Illinois.